Business Keynote Speaker Scott Deming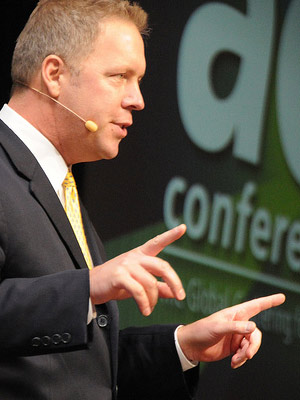 Scott Deming gives passionate keynote speeches from a diverse business background. He understands how to motivate and engage, and his teachings resonate across many boundaries. Scott speaks, advises, and consults with some of today's most trusted and respected brands from across the globe. His messages resonate through industry lines, empowering organizations to make positive changes to build a brand and promote consumer relations in the most constructive form.
Synopses of several of Scott's most requested keynotes are listed below. Our team will be happy to work with you further to find the right fit for your organization or event.
Perceptual Reality
This keynote speaks to product marketing and branding, allowing companies to ascertain the difference between what is being sold, and what customers hold as expectations for your products and services. Perceptual Reality includes many examples of reality vs. perception with concrete details to help you translate the message to tailor fit your company's needs. There are many dangers that lie within assumptions, especially in an aggressive marketplace. Scott's keynote will help you reach potential consumers with a keen eye towards meeting and managing their expectations.
Powered by Purpose
If you feel your mission statement has lost its place as the guideline in your organization, Powered by Purpose can help you steer back on course. This keynote focuses on strong leadership and teamwork and challenges the audience to investigate their personal values and the place they hold in making daily decisions. Each small decision drives a company's purpose. Organizations passively choose their course of action every day, but an organization that is Powered by Purpose is actively engaged to hold true to the course.
Creating the Ultimate Customer Experience
We have all heard the common tilt towards customer service based communications, but companies very rarely align their staff to meet the consumer's expectations. Creating the Ultimate Customer Experience involves serving as a loyal evangelist to your brand, and the products and services that support the organization. Scott's keynote will help you bust through the common rhetoric and jargon to really determine your brand: who you are, what you do, and what you sell. From here, your team will learn to connect with customers like never before while creating the opportunity to build a cult following within your industry.
Other Services
In addition to the keynote speeches listed above, Scott Deming routinely offers educational seminars and breakouts for conferences and conventions throughout the world. His focus on leadership skills and customer service are presented in a fresh way that has helped a vast array of organizations.
There is a lot to be learned through a keynote presentation or a seminar, but those who want to delve further often look to Scott's acclaimed training programs for truly impactful changes. In person, classroom style sessions will give your company the boost needed to positively alter behaviors to build a brand experience that is unparalleled. In-depth consulting is also available.
Call today to learn more or to book Scott Deming for your next company retreat or presentation.
Event Prep Materials

Make sure you're ready for Scott's upcoming program by downloading the Event Prep Materials.