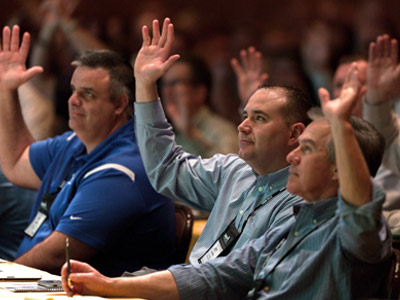 Educational seminars and breakouts are essential elements for any conference or convention. Based on years of experience in business ownership, board positions, nonprofits and startups, Scott Deming has a wealth of business knowledge for audiences of all sizes and all skill levels. From customer service to sales to leadership, Scott has presented hundreds of business seminars and breakouts across the globe. The results are always the same — passionate attendees are inspired to make a positive change!
Scott Deming's Seminar Topics Include:
Sales
Marketing and Branding
Customer Service
Leadership
Teamwork
A company is only as strong as its employees. For this reason, it is important to build solid relationships with peers in the workplace. Scott encourages companies to hold company and departmental meetings. In doing so, a safe space is created in which employees can express their concerns. This results in raised employee morale as it creates opportunities for engagement. Scott also discusses the importance for employees to build relationships through corporate team building activities and workshops. These activities will help employees understand the function and role of teammates in other departments.
Business Seminars and Workshops
Business workshops and seminars are great tools to help your business grow from the inside out. Scott Deming is passionate about helping others with their business-related questions. His enthusiastic speeches motivate and encourage audience members to make real changes. Scott's seminars can help your company establish and define its standards. His sound advice will also help you relate to your employees to increase their productivity and efficiency.
Scott's seminars and workshops are interactive, fun, and highly productive. Leaders can become more effective; marketing professionals will learn new skills to reach their audience better. Salespeople will better understand how to make a sale and keep the customer. As a result, employees get excited to collaborate and be part of a winning team. With Scott Deming, your company will improve its customer experience, brand, and bottom line.
Event Prep Materials
Make sure you're ready for Scott's upcoming program by downloading the Event Prep Materials.