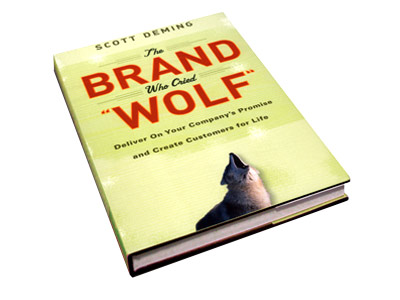 "The Brand Who Cried Wolf"
If you're in the business of selling something—anything!—you need this book. The Brand Who Cried Wolf is the ultimate handbook for companies and individuals who want to establish and sustain their most powerful, successful brands. It presents a blueprint for turning typical customers into raving evangelists for life.
If you're looking for insider secrets or fancy tricks guaranteed to lure customers, you won't find them in here. Instead, The Brand Who Cried Wolf explains that great branding doesn't come from gimmicks or even from good advertising. Great branding begins and ends with exceptional, innovative customer service. Great companies are those that not only deliver on their promises to customers, but also transcend those promises to create one-of-a-kind emotional experiences.
Powerful branding doesn't come from creative advertising, or from a logo, color scheme, or theme song. It comes from doing for your customer what you say you're going to do. Brands that don't deliver on their promises lose customers, but brands that consistently exceed what they promise earn customers for life and generate waves of new customers from positive word-of-mouth. The art of branding really is that simple.
Learn how to make the Ultimate Promise and Keep It! Sold in five countries and hailed by many leaders in business as a must have read, you can own yours now!
When purchasing from this website, upon request, your book(s) will be personalized and signed by Scott Deming.