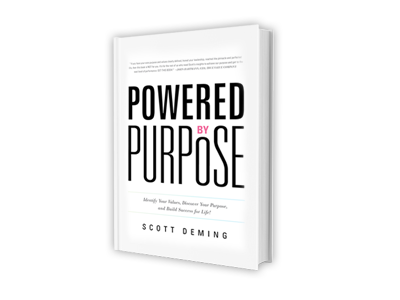 "Powered by Purpose"
Scott's new book is rousing call to transform your business through the power of values and purpose.
According to consultant, coach, and speaker Scott Deming, you, your company, your  foundation or any organization you belong to have the power to truly affect change, but  too often you focus on policies and procedures instead of values and purpose. And without values and purpose, your power and your ability to influence go to waste or even become destructive.
Scott will show you how to identify  your values, declare your purpose, surround yourself with others of like mind, and then communicate that purpose to the world in a manner laced with emotion, relevance, and intrigue. Integrating conceptual knowledge with case studies and firsthand experiences.
Scott developed a philosophy from his earliest days as an advertising and marketing executive that was based on three core values his parents taught him: honesty, integrity, and respect for humanity. From that foundation, he realized his purpose—to help businesses – big and small, old and new –create lasting, meaningful brands by focusing on what matters most to them and to those they serve. His love of business—the fact that someone can have an idea and use passion, smarts, and hard work to make a go of it—propels his drive to return you and your organization to the right formula for success: viewing values and purpose as the essentials.


When purchasing from this website, upon request, your book(s) will be personalized and signed by Scott Deming.
Reviews
"It took about three paragraphs for me to get completely hooked by Scott Deming's new book. With a distinctive and compelling perspective on what matters most in business, this book will make a positive difference in your work and your life."
Joe Calloway – author – Be The Best At What Matters Most
"Scott has demystified the process helping you crystalize your core values, and more
importantly, creating an organization that shares and supports them. Whether you are part of a Fortune 500 company, or a mom and pop shop, reading this book and putting his concepts into  action will propel you ahead of your competition."
Michael Spremulli, M.S., C.P.B.A.
Corporate Personality Profiler
President/CEO – The Chrysalis Corporation
"Scott has been successful for years following a practice of connecting values to his daily life, whether it's leading a business, sharing his message or connecting people to the important cause of child safety. This book will quickly connect with you and open your eyes to the true meaning and formula for lasting success."
Kate Carr
CEO – Safe Kids Worldwide
"I spent 16 years working for the FBI, CIA and ATF, teaching thousands of law enforcement
agents how to decipher fact from fiction. Now, I teach millions in the public how to do the
same. In his amazing new book, Scott shows you how to read, understand and surround yourself with people who will help make your personal and professional life very fulfilling and very prosperous."
Janine Driver
New York Times Bestselling Author – You Say More Than You Mean and You Can't Lie to Me
"I've worked with Scott Deming over the years and have personally seen his processes turn our bottom line into profits. His new book is laced with ideas and steps to help you create a truly profitable and powerful network of likeminded people for your personal and professional life."
Jim D'Agostino
Vice President, Trane Heating & Cooling