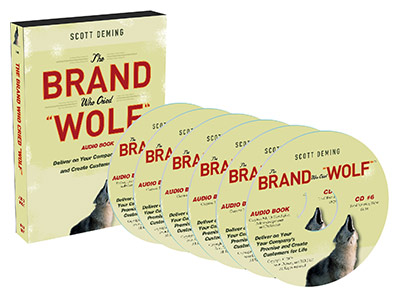 "The Brand Who Cried Wolf" Audio Book
Now, you can listen to the book that has changed the paradigm in the brand building process on this incredible six CD audio book ofThe Brand Who Cried Wolf! Branding is one of the most misunderstood concepts and topics in all of business. Scott Deming spent twenty years as owner of a national advertising and marketing firm. He learned first-hand that awareness alone cannot build a powerful, emotional brand. Learn how to make the Ultimate Promise and Keep It!
The Brand Who Cied Wolf is currently being sold in five countries and hailed by many leaders in business as a must have read. Now it's a must have listen!
Upon request, your audio book will be personalized and signed by Scott Deming.
Once purchased and opened, all CDs and DVDs are non-refundable, unless there is a technical issue or malfunction of the CD or DVD.
Purchase the CDs through PayPal